---
Huw Wiggin & John Lenehan
---
Biography Huw Wiggin & John Lenehan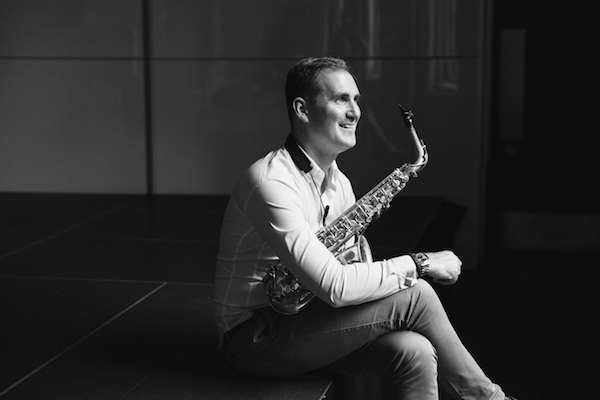 Huw Wiggin
Commonwealth Musician of the Year, First Prize and Gold Medal winner of the 2014 Royal Over-seas League Annual Music Competition, Huw Wiggin is one of the most popular saxophonists of his generation.
He has performed in venues as far afield as the Forbidden City Concert Hall in Beijing - where he gave recitals and a concerto performance of Eric Coates's Saxo Rhapsody - as well as those closer to home such as London's Wigmore Hall. Other past highlights include appearances at Brighton, Newbury, Henley, Ripon and Edinburgh Fringe Festivals. His performance of Milton Babbitt's Accompanied Recitative was broadcast by BBC Radio3 on 'Hear and Now' to celebrate the composer's centenary.
Huw is professor of saxophone at the Royal Academy of Music in London and has given master classes at the Royal Northern College of Music, Chetham's School of Music, NAFA in Singapore and the Universities of Calgary and Lethbridge in Canada. He has also been a member of the judging panel for major competitions including the Royal Over-seas League Annual Music Competition. A keen educator he is also an ambassador for the Henley Music School.
In March 2018 Huw featured on 'BLAKE, The Anniversary Album', conducted and orchestrated by James Sherlock. Other collaborations include working with singer Laura Wright, harpist Oliver Wass and pianist John Lenehan. John and Oliver feature on Huw's debut album 'Reflections' to be released on Orchid Classics in June 2018.
As someone who is passionate about traveling, Huw has given concerts on Cunard ships all over the world. He is a regular performer on Cunard's flagship ocean liners: Queen Elizabeth, Queen Victoria and the Queen Mary II.
Huw's early studies were at Chetham's School of Music and the Royal Northern College of Music with Andrew Wilson and Rob Buckland. On graduating in 2008 with a 1st Class honours degree he won a scholarship from the Deutscher Akademischer Austausch dienst (DAAD) to continue his studies with Daniel Gauthier at the Hochschule für Musik, Cologne. Huw completed his studies at the Royal College of Music with Kyle Horch and gained a Master's Degree with Distinction in 2012. Further prizes and awards early in Huw's career include the RCM Concerto Prize, a 'Star Award' from the Countess of Munster Musical Trust, a Music Education Award from the Musicians Benevolent Fund, the Philip & Dorothy Green Award, a Martin Musical Scholarship and selection as a Park Lane Group Artist.
Huw is a member of the Ferio Saxophone Quartet and regularly performs with them in the UK and abroad. They have been major prize-winners in the UK at the Royal Over-seas League Music Competition, Philharmonia's Martins Musical Scholarship Fund, and the Park Lane Group. The quartet signed with Chandos Records in 2016 and has recorded two discs for the label. 'Flux' was released in July 2017 and the quartet's second CD for Chandos will be out in November 2018.
John Lenehan
is one of the UK's most versatile musicians. As pianist, he has appeared worldwide to great acclaim as soloist and in collaboration with some of the leading instrumentalists of our time. He has recorded more than 70 CDs and is also well known for his compositions and arrangements.
Oliver Wass
studied at the Guildhall School of Music with Imogen Barford. He has won international competitions throughout Europe, and in 2016, he became the first harpist ever to win the Guildhall Gold Medal. He has performed all the major harp concertos, including directing George Frideric Handel's Harp Concerto in the Barbican Hall.