---
Biography Reinhard Goebel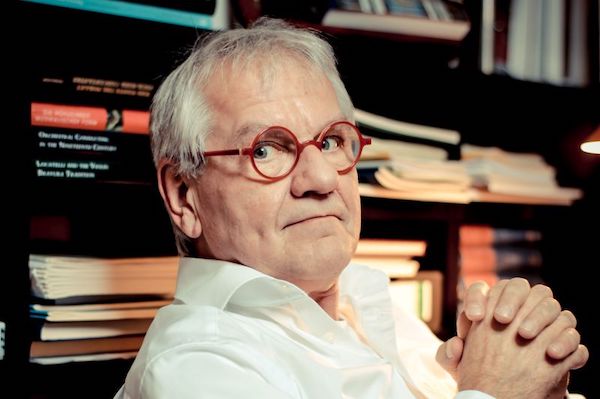 Reinhard Goebel
The Süddeutsche Zeitung reveres him as an 'icon of early music', and the New York Times applauds him as a 'light in a sea of mediocrity'. Reinhard Goebel specialises in the repertoire of the 17th and 18th centuries; As an expounder of period performance practice for both early music ensembles and modern orchestras, and as an endless fount of knowledge about gems of the repertoire, he is a world-renowned specialist.
Reinhard Goebel primarily dedicates the 2019/20 season to his longstanding research and music project Beethoven's World, in which he examines little-known works of Beethoven and the milieu of his contemporaries in order to encourage a relocation of Beethoven within the axis of music- historical coordinates. A five-part CD cycle with Germany's leading radio orchestras (WDR, HR, DRP, MRO), including four first-ever recordings, will additionally be released from November 2019 for Sony Classical and accompany extensive touring throughout Europe featuring a variety of programs orbiting Beethoven.
In the forthcoming season Reinhard Goebel will be the Artist in Residence at the Mozart Festival in Würzburg and looks forward to his musical encounters with the Stavanger Symphony Orchestra, the Bamberg Symphony Orchestra, the Orchestre Festival Bach in Montréal, the Noord Nederlands Orkest, the Tapiola Sinfonietta, the Dalasinfoniettan, the Bournemouth Symphony Orchestra, the German Radio Symphony Orchestras in Cologne and Munich and the Russian baroque orchestra Pratum Integrum in Moscow's newly opened Zaryadye Concert Hall, among others.
In May 2018 he was named artistic director of the Berliner Barock Solisten, a baroque group which emergerd from the Berlin Philharmonic Orchestra.
Their new recording of the Brandenburg Concertos was awarded with the Opus Klassik 2018. In 2019 Händel's Concerti Grossi op.3 were released with Hänssler Classic.
Reinhard Goebel was the founder of the legendary Musica Antiqua Köln, whom he directed for 33 years. As a conductor, his unique way of amalgamating passion for music with meticulous musicological knowledge, inspires, captivates and polarises today's orchestral scene.
Reinhard Goebel is the recipient of the Bach-Medaille of the City of Leipzig, which was awarded to him in 2017 among other things for his pioneering and 'irrepressible exploration of the repertoire beyond the established names'.
In April 2007 the IMA award was conferred on him in London, and in 2015 the BBC Music Magazine chose him to appear on their list of the 20 best violinists of all time.