---
Raphaël Sévère, Orchestre de chambre de Paris & Lars Vogt, Quatuor Modigliani
---
Biography Raphaël Sévère, Orchestre de chambre de Paris & Lars Vogt, Quatuor Modigliani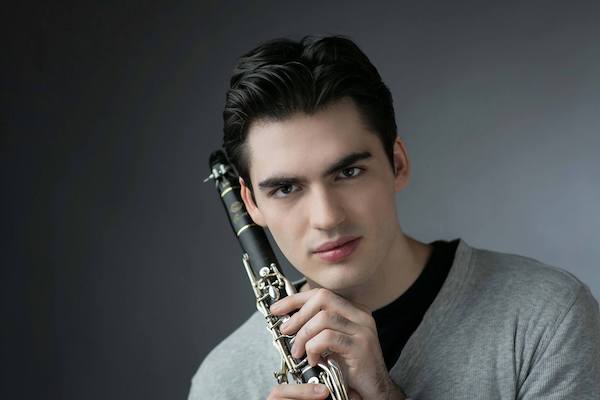 Raphaël Sévère
After winning the Tokyo Competition at the age of twelve and gaining a nomination as 'Solo Instrumental Discovery' at the Victoires de la Musique Classique when aged fifteen, Raphaël Sévère went on to win the prestigious Young Concerts Artists International Auditions in New York in November 2013, where he was awarded First Prize and eight special prizes.
Raphaël Sévère has performed as a soloist with the Deutsches Symphonie-Orchester at the Berlin Philharmonie, the Orchestra of St. Luke's at Alice Tully Hall in New York, the Orchestre de Chambre de Paris at the Saint-Denis Festival, the London Philharmonic Orchestra, the Berlin Konzerthausorchester, and the orchestres nationaux of the Capitole de Toulouse, Bordeaux, Lille, Strasbourg, Pays de la Loire and Île-de-France.
He has appeared as a recitalist at the Théâtre des Champs-Élysées and Auditorium du Louvre in Paris, the Kennedy Center in Washington and Merkin Concert Hall in New York, the Isabella Stewart Gardner Museum in Boston, the Gardner Museum in Vancouver, the KKL in Lucerne, the Rheingau Musik Festival, the Mecklenburg-Vorpommern Festspiele, the Fondazione La Società dei Concerti di Milano, Le French May in Hong Kong, the Festival de la Grange de Meslay, the Salle Molière in Lyon, the Grand Théâtre d'Aix-en-Provence, the Festival de Radio France-Montpellier, and La Folle Journée in Nantes, Warsaw and Tokyo.
His chamber music partners include the Ébène, Modigliani, Pražák and Van Kuijk quartets, the Wanderer, Les Esprits and Messiaen trios, and Martha Argerich, Boris Berezovsky, Adam Laloum, Jean-Frédéric Neuburger, Gidon Kremer, David Grimal, Gérard Caussé, Antoine Tamestit, Gary Hoffman, Xavier Philips, Victor Julien-Laferrière and François Salque.
Always attracted by the creation and himself a composer, in 2016 he created his first piece "Obscurs" for clarinet and guitar at Salle Cortot (Paris) with Antoine Morinière.
In 2018, he created « Entre les Liens » with Paul Montag, piece for clarinet and piano commissioned by Musicades et Olivades.
In 2019, he has composed "Seven Miniatures" for solo piano (creation in February 2019) and "Entre Chien et Loup" for solo guitar (creation in Vienna in summer 2019, and in Paris at the Lavoir Parisien).
In 2020, he created his first concerto for clarinet and orchestra at Rennes Opera, commissioned by the Orchestre National de Bretagne. Then wrote « le Pont d'Arcole » a piece for the Trio Karenine, commissioned by Festival Jeunes Talents. His latest work, « In Stahlgewittern », a musical adaptation of Ernst Jünger's book, for clarinet, violon and piano, commissioned by Aux Armes Contemporains, will be created in October 2020 at la Scala Paris. His works are published by the editions l'Empreinte Mélodique.
His recordings have been rewarded among others by Diapason (Diapason d'Or), Classica (Choc), Télérama (FFFF event).
In 2017, Raphaël latests releases includes an album dedicated to Carl Maria von Weber's first Clarinet Concerto recorded at the Berlin Philharmonic with the Deutsches Sinfonieorchester under the direction of Aziz Shokhakimov, with two works by the same composer with the pianist Jean-Frédéric Neuburger (Mirare).
In 2018, he releases with the Trio Messiaen an Album dedicated to the Quartet for the End of Time by Olivier Messiaen, and Court Studies From the Tempest by Thomas Ades (Mirare).
In 2020 appears « On Tour » (Mirare), a new album in the form of a concert with his lifelong partner, Paul Montag.