---
Kyle Eastwood & Clint Eastwood
---
Biography Kyle Eastwood & Clint Eastwood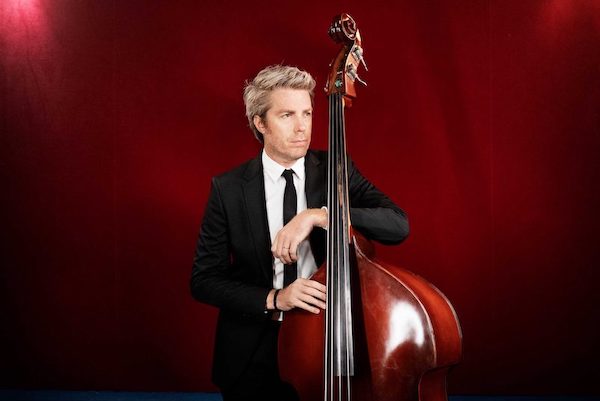 Kyle Eastwood
grew up in Carmel, California as the eldest son of actor Clint Eastwood. While doing his homework Kyle remembers listening to records of jazz stars such as Duke Ellington, Count Basie and Miles Davis playing in the house. His father had been attending the Monterey Jazz Festival since it began in 1958 and when his children were born it became a yearly family outing. Kyle's childhood had jazz as its soundtrack and he credits his father with introducing him to the joys of the bass line. Kyle's first memory of playing music was when Clint taught him how to play the left hand bass line of "Boogie Woogie" while he played the right hand solo over the top.
Initially studying film, Kyle soon realized that jazz was his true passion. After years of paying his dues gigging around Los Angeles and New York, his debut album From Here to There was released on Sony in 1998.
Showing his ability as an accomplished composer, Kyle began working in film with a contribution to the score for Mystic River. The film later won two Academy Awards.
In 2004, Kyle signed to Candid Records, one of the leading independent jazz labels in the UK, and released his second album Paris Blue. It resonates with swing, groove, and funk overtones. Kyle says, "My roots remain in jazz but I like adding all kinds of different flavors." The album climbed to No. 1 on the French Jazz charts.
Not satisfied with just a critically acclaimed record, Kyle expanded his film work , composing three pieces of music for the 2004 blockbuster Million Dollar Baby. The film won four Academy Awards.
Kyle's third album Now was released in 2006. It features songs written by Ben Cullum and collaborations with BBC Jazz Award winner pianist Andrew McCormack, as well as other musicians that make up the who's who of the London jazz scene. With tracks ranging from the post-modern jazz modalities of the title track, through the flirtatious melodies of "Let's Play" to the moody electronic groove of "September Nights," Now captured listeners worldwide.
In 2007 and 2008, Kyle delivered Now to live audiences on 3 continents. His performances with his live band have sold out venues and received the highest critical acclaim. Kyle has also managed to fit in composing soundtracks for a number of Clint Eastwood films including Flags Of Our Fathers, Letters from Iwo Jima Gran Torino and Invictus.
Kyle Eastwood's latest record, Metropolitain, is due to be released in June 2009 in the US. It was recorded in Paris and includes collaborations with some of the artists he admires most on the current scene: drummer Manu Katche, trumpeter Till Bronner, French star vocalist Camille and pianist Eric Legnini.
Co-produced by Erin Davis (son of Miles) and Kyle's long term writing partner Michael Stevens, the album captured the attention of the jazz world with its forward thinking style and the gathering of some of the cream of today's jazz musicians. When he is not on tour, Kyle spends much of his time between Paris and Los Angeles and is very much at home in France, so it was natural to look there for an ideal place where he and his musicians could relax for a few days and allow their creative juices to flow. Such a place turned out to be the fabulous 15th Century Couronneau in Ligueux, deep in classic Bordeaux country, and Songs From The Chateau was born. To capture the authentic sound of the all star band Kyle has on display, producer Crofton Orr and the engineering of Simone Griva were enlisted. Also on board was long time collaborator Michael Stevens (co-writer with Kyle on the scores for films including Changeling and Gran Torino).
The record itself contains more than a casual nod towards France, Kyle's second country. The opener Marciac, scene of the famous jazz festival where Kyle played in 2010, gets the programme underway in impressive fashion as drummer Martyn Kaine ushers in authoritative and fluent solo contributions from the two Graemes (Flowers and Blevins, on trumpet and saxophone, respectively), whilst the admirably atmospheric Moon Over Couronneau shows off the impressive talents of pianist Andrew McCormack. This is in turn underpinned by Kyle himself, who then comes to the fore on Aperitif – a sharpener that goes down very smoothly, in the best sense of the word.
Around Kyle, the band is tight through the album, and inventive highlights abound. The vivacious and aptly named Café Calypso sees Blevins getting deeply into the Caribbean grooves with his jaunty and spirited saxophone. The reflective tone of Soul Captain has some tasty McCormack piano complemented by Blevins' soprano. Andalucía is descriptive, enhanced by Kyle's virtuostic solo and hypnotic bass figure, permeated by the haunting trumpet of Graeme Flowers.
Flowers' flugelhorn and Kyle's stylish bass lead again on Over The Line while the album finishes with a fond reminiscence of you-know-who, Down At Ronnie's. The band confidently struts its stuff with a highly charged dialogue between the horns, bringing to a close what may well be the best of Eastwood's albums to date.
"At home we had music all the time. My father always made sure I listened to jazz. He took me to the Monterey Jazz Festival every year. What was really great was that being the son of Clint gave me backstage access to all the gigs and I was very fortunate to meet and talk with Sarah Vaughan, Miles Davis and all the legends…" (Kyle Eastwood)
A worldwide tour in Japan, Europe and United States will follow the release of the album.