---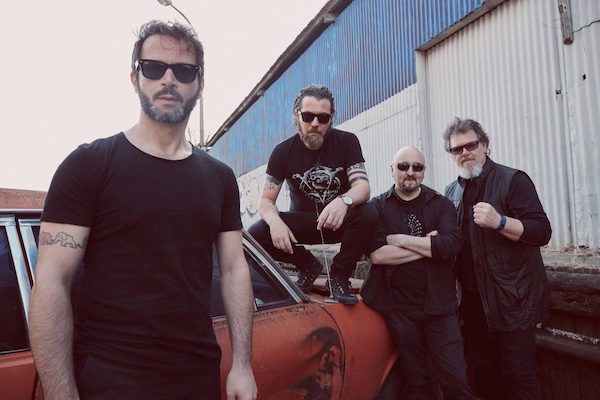 O.R.k.
Vocalist Lorenzo Esposito Farnasari Joins Forces with Formidable Lineup of Carmelo Pipitone on guitars, Colin Edwin on Bass and Pat Mastelotto on drums for O.R.k.'s RareNoise Records Debut, Soul of an Octopus
Following on the heels of 2015's captivating Inflamed Rides, the members of the powerful collective O.R.k. — lead singer Lorenzo Esposito Fornasari, Porcupine Tree bassist Colin Edwin, Marta Sui Tubi guitarist Carmelo Pipitone and King Crimson drummer Pat Mastelotto — were primed to deliver an even more potent statement for their sophomore offering. Coming off of a triumphant tour of Europe and South America, they were charged to take things up a notch. And so it was with Soul of an Octopus, their second recording and RareNoise debut. This one finds the four kindred spirits dealing in even deeper waters. "After Inflamed Rides we did around 30 shows in Europe, Argentina, Chile and Mexico this year," says Fornasari. "That definitely helped us to reign in our sound and get to a more focused mutual vision. So all the pieces from the new album represent an honest and effective picture of who we are as O.R.k. right now."
Because of the presence of drummer Mastelotto, it would be easy to draw comparisons to King Crimson for this project. (The opener "Too Numb" in particular has a kind of Discipline vibe in its interlocking ostinatos that create a hypnotic latticework pattern against Fornasari's menacing vocals). One can also hear traces of such artistically inclined groups as Pink Floyd in ambitious tunes like "Scarlet Water," "Just Another Bad Day" and the extraordinary "Capture or Reveal." But O.R.k. draws on a myriad of other influences throughout Soul of an Octopus that encompass prog-rock and even bits of opera, as can be heard in Fornasari's dramatic and wide-ranging vocals on tunes like the intense closer "Till the Sunrise Comes" and the epic "Dirty Rain." Says the native of Bologna, Italy, "I got a degree as opera singer, but when it comes to my music I try to forget what I've been taught. When I find myself working on new material I prefer to improvise and sing without thinking what to do or where to head to, at least that's what I do in first place."
On the extreme opposite end of the dynamic scale from the operative sweep that he delivers throughout Soul of an Octopus, Fornasari takes a more intimate, close-mic approach at the outset of the poetic "Heaven Proof House," recalling the enigmatic whisper vocals of the late Leonard Cohen. "Since I think at myself as a composer and producer first and then as vocalist, I get my brain to rethink the whole structure and listen to my vocals as a producer would do," he explains. "I tend to give my vocals the same importance I'd give to any of the other instruments composing the whole structure."
Innovative Italian guitarist Pipitone is prominently featured on "Collapsing Hopes," which opens with some gutbucket acoustic blues guitar and gradually builds to a slamming wah-wah fueled six-string onslaught. Says Fornasari of his O.R.k. bandmate, "Carmelo has received multiple awards from music Italian critics because of the way he plays acoustic guitar. He makes his strings bark and scream like the most ferocious electric piece of guitar and a second later he makes you cry with the most intense clean arpeggio."
Fornasari further describes the process that he and his O.R.k. bandmates took on this RareNoise release: "We usually start the process from guitar or bass riffs, I assemble a rough structure and send it over to the other guys. This collaborative back-and-forth process across the miles is very effective in our case. Nonetheless, it usually takes weeks or even months before a piece gets to its final shape. We don't follow any pre-defined plan though. One of the most intriguing elements in music is the most unpredictable too — once you release new stuff you never know how people will react and interpret your sound and words."
While Fornasari has also been involved in other projects for RareNoise Records (he was on Owls' 2011 release, The Night Stays, Berserk's self-titled 2013 debut and Obake's three RareNoise releases including the very recent Draugr), he considers O.R.k. to be the focus of his artistic endeavors right now. "I love Berserk! and Owls but I see them as collaborative side projects while O.R.k. is actually my main band. It's the one which best represents my vision in music and the one I'm dedicating most of my of time and energy to."
Fornasari clearly poured his heart and soul and all of his energy in this band. If you can't catch O.R.k. in action live, check out their imposing sophomore release, Soul of an Octopus, which stands as one of the more intensely compelling recordings in the RareNoise roster.