---
Biography The Indianapolis Quartet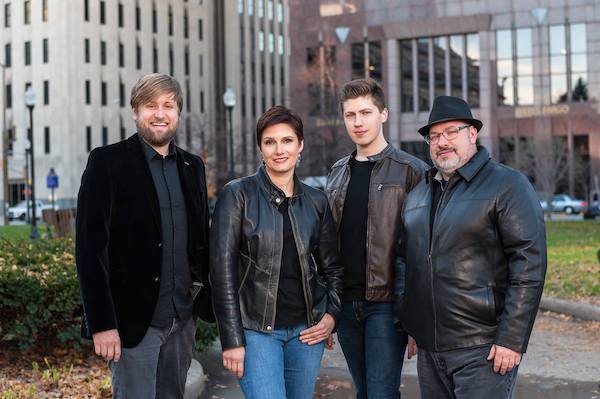 Robert Paterson
Described by the press as "a modern-day master" (AXS.com) and the "highlight of the program" (The New York Times), Robert Paterson has won numerous awards for his music in virtually every classical genre. The Classical Recording Foundation at Carnegie's Weill Hall named Paterson Composer of The Year in 2011, and his music has been on the Grammy ballot for the past six seasons. His works have appeared on National Public Radio's Best of the Year lists for classical music and regularly appear on radio playlists across the United States. Paterson's music has been performed by over one hundred outstanding ensembles, including Nashville Opera (for the world premiere of Three Way with a libretto by David Cote), Opera Orlando, Minnesota Orchestra, American Composers Orchestra, Vermont Symphony Orchestra, Delaware Symphony, Louisville Orchestra, and the Buffalo Philharmonic. Recent commissions include Ghost Theater for the Albany Symphony and the first ever commission for the New York Choral Consortium's annual "Big Sing" event. Paterson's awards include the A.I. duPont Composer's Award from the Delaware Symphony, a three-year Music Alive grant from the League of American Orchestras and New Music USA, and an American Composers Forum commission through the Jerome Composers Commissioning Program. He resides in New York City and Saratoga Springs, NY with his wife, Victoria, and son, Dylan, and together he and his wife co-direct Mostly Modern Projects, a non-profit that focuses on performing and recording music by living composers. For more information, visit robertpaterson.com.
The Indianapolis Quartet
founded in 2016, and consisting of Zachary DePue, Violin; Joana Genova, Violin; Michael Isaac Strauss, Viola, and Austin Huntington, Cello, currently serves as quartet-in-residence at the University of Indianapolis. Praised for "its energetic, often kinetic, enthusiasm, and each player's individual virtuosity and flexibility" (New York Concert Review), the members' palpable rapport and interpretive skills bring about performances of a unique emotional style that have earned the group critical acclaim and audience adoration.
The Indianapolis Quartet garnered accolades for its Weill Recital Hall at Carnegie Hall debut in March 2020, premiering Robert Paterson's String Quartet No. 3 "in a tour de force of tight ensemble and interplay" (New York Classical Review), along with works by Debussy, Schumann, and Frank Felice.
The ensemble has performed at Lutkin Hall at Northwestern University in Chicago, Indiana Landmarks Center, Tippecanoe Chamber Music Society in Lafayette, Indiana, Illinois Wesleyan University, St. Francis@4 series in Cincinnati, and the Duckwall Artist Series at Butler University, among other engagements. The have also served as ensemble-in-residence at the Taconic Music Festival in Manchester, Vermont, Sonoran Chamber Music Festival at Arizona State University and at Indiana State University's 53rd annual Contemporary Music Festival.
They have also given numerous live performances on Vermont Public Radio, WBAA Classical 101.3 FM in West Lafayette, Indiana, and on WISH-TV in Indianapolis.
Guest artist collaborations on their home series at the Christel DeHaan Fine Arts Center in Indianapolis and on tour have included acclaimed performances with renowned concert artists Mark Kosower, Todd Palmer, Atar Arad, Eric Kim, Drew Petersen, Soyeon Kate Lee, Carrie Dennis, Nick Canellakis, and Orli Shaham. "The quartet and Shaham fashioned a reading of great tenderness and variety, serious as all get-out when it needed to be, exuberantly driven when appropriate, and fully responsive to that summit of Brahmsiness, the Allegro non troppo." (Jay Harvey Upstage).
In addition to their extensive repertoire of classical, romantic and 20th-century works, the Indianapolis Quartet has commissioned and performed new works by Robert Paterson, Frank Felice, Matthew Bridgham, and John Berners. The ensemble can be heard on composer Frank Felice's monograph recording Reflections and Whimsies: Chamber Music for Strings and Voice.