---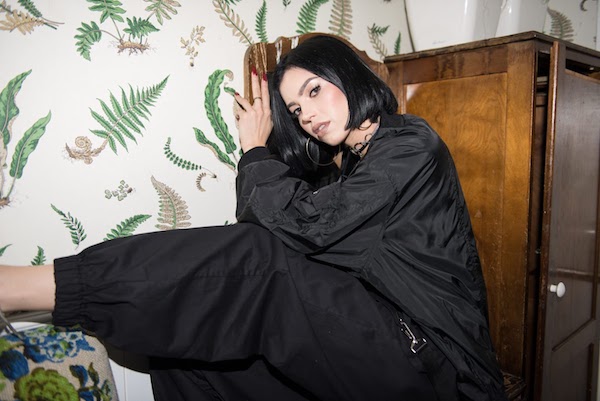 laye
To say that the singer/songwriter known as laye is an enigma would be an understatement. Ever since the Montreal-native floated onto the scene and surreptitiously released four singles last year -- including mesmerizing tracks such as "likefck" and "goldfinger" -- she's been dropping hints of what's to come via her social feeds. It's gotten so that fans can find clues of laye's new album, lonesome, buried in her Instagram posts. In the slew of her polaroid-filled feeds, followers can speculate how laye's sound and vision are coming together online through the mood boards she's created, which include film noir inspirations, odes to old school 70s horror movies, and gothic-inspired collages.
In tandem with the artist's intriguing aesthetics, laye's sultry, Alt-flavored pop is the artist's best well-kept secret. It won't be for long. Her latest single, "no love lost", currently blowing up Spotify and iTunes charts, is a perfect example of a how a song can sound so intimate that you feel like you are eavesdropping on a closed-door conversation. Between the trippy guitars strumming throughout "no love lost", laye croons out lyrics like she's tallying a pros and cons list in a romantic relationship she's reconsidering. The way laye sings brutally honest statements makes you think you're glancing at unsent text messages nobody is supposed to see or having access to laye's own internal dialogue. Whether she's navigating the complexities of love and lust in the digital age (listen to her thoughts in "goldfinger", "better" and "boy", which features rapper BIA) or how she analyzes her own feelings in the brilliant and beautiful anti-ballad, "lonely anthem", laye's songs sound like classified information.
"So many of my lyrics come from debates and discussions I'm having in my own mind," she says. "My process is so private, as is most songwriters. Some lines are thoughts I've written out while living them and a lot of songs just sit in the back of my mind until certain music brings them out and unleashes all the loveliness or not so-kind feelings from within and my own inner demons."
The culmination of mining -- and transforming -- laye's deepest thoughts into music has made her debut album, lonesome, an epic undertaking. The project involved crafting a plethora of songs over a four-year period and had laye travelling to New York, Los Angeles and Toronto to work with a slew of legendary pop and hip-hop producers. The venerable list includes Lauren Christy (G-Eazy, Dua Lipa), Federico Vindver (Jennifer Lopez, Lauryn Hill, FNZ, G-Eazy, A$AP Rocky), Ben Harrison & Ibrahim Asmar (Rihanna, Rita Ora), Mike Wise ( laye – no love lost, Ellie Goulding, Chainsmokers, Upsahl, bulow, Allie X), Alex Hope (Troye Sivan), Pomo (Mac Miller, Panderson .Paak) and Joel Stouffer (bülow, Dragonette).
Armed with a crew of sonic heavyweights, laye has curated a collection of sounds for lonesome that boldly represents her ambition, namely to change the pop game. It's a goal that tracks like "sicker" seem to effuse, effortlessly.
As one of lonesome's jewel-in-crown single's, "sicker" brings together some of laye's signature soundscapes. From skeletal yet immersive drum patterns to bass-heavy 90s trip-hop and light touches of trap, the multi-textured song vacillates between being a song of self-reflection and a party jam. Layered upon the rich synth is laye's ethereal, super-smooth vocals which go from commanding to vulnerable within seconds. The actual chorus to "sicker" -- which has laye contemplating -- "I'm gonna pull me closer, I wanna win me over" is worthy of a thousand think pieces and even more interpretations.
"I think people are really redefining what it means to be a pop artist today and I've felt that way for a while. When you hear 'pop' I think your mind goes to one specific type of song, but 'pop' is almost always a mix of genres, and it's up to you to choose what you want to do with it and which direction you want to go with," she says. "It isn't about using the same tricks or hooks, it can be dreamy, atmospheric, and catchy at the same time, it can be anything really."
It's exactly this depth and range that secured laye a prime slot at Osheaga this year, a gig that is set to be a career-defining performance for the artist. Having already cut her teeth as the opening act for a number of shows, including ambient rock band, Cigarettes After Sex, laye's own hypnotic presence on stage reflects her music -- she prefers to captivate a crowd with composure and a sense of secrecy.
"I think it's important to pull back a bit. It compels people to interpret your work and guess what's next," laye says.