---
Ensemble Barocco di Napoli & Abchordis Ensemble
---
Biography Ensemble Barocco di Napoli & Abchordis Ensemble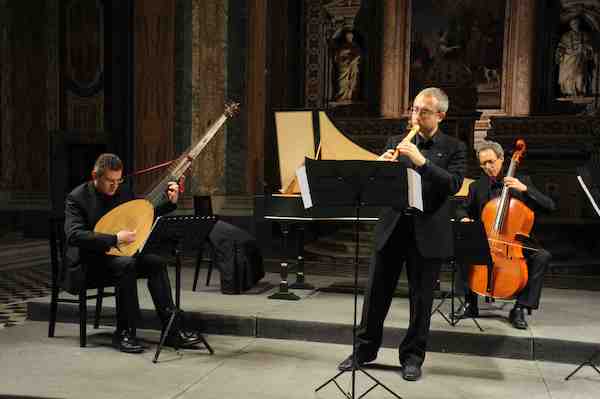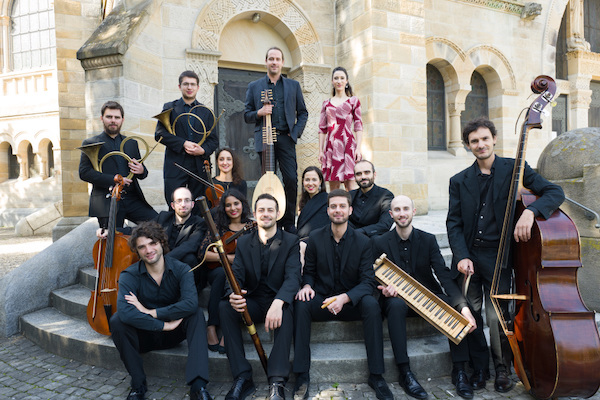 The Ensemble Barocco di Napoli
was founded on the iniative of Tommaso Rossi, Raffaele Di Donna and Marco Vitali and debuted to great acclaim on 2 May 2010 on the occasion of a concert organised by Associazione "Alessandro Scarlatti" to celebrate the 350th anniversary of birth of Alessandro Scarlatti.
The group is made up of musicians who have been active for years in the most important Italian Early music entitles. In 2012 the group published its first CD dedicated to the flute Cantatas and Sonatas by Alessandro Scarlatti for Stradivarius label with soprano Valentina Varriale. In 2014 the same label published a second CD, dedicated to Leonardo Leo's flute Sonatas.
The Ensemble was invited by important festivals like Savona Opera Giocosa , Cusiano Early Music Festival, Leonardo Leo Baroque Festival. In January the Ensemble played with soprano Maria Grazia Schiavo in the music season of Associazione "Alessandro Scarlatti". The Ensemble organizes in Pertosa the Early Music Course "Musiche da ricordare" in collaboration with Fondazione MIdA.
Abchordis Ensemble
was founded in 2011 with the desire to shine a light on masterpieces of Italian baroque, that until now were unpublished and unedited in modern times. To this end, the ensemble has undertaken a careful and scrupulous musical research activity, devoted mainly to rediscovering sacred Italian music of the seventeenth and eighteenth centuries.
Abchordis Ensemble has performed at important festivals and exhibitions, including: Ambronay Festival (France), Internationale Händel-Festspiele (Göttingen, Germany), SWR & Villa Musica (Kurfürstliche Palais in Trier, Germany), Festival classique des Haudères (Switzerland), Festival Les Goûts Réunis (Lausanne, Switzerland), Les Riches Heures de Valère (Sion, Switzerland), Mars en Baroque (Marseille, France), Valletta International Baroque Festival (Malta), Pavia Baroque (Italy), Urbino Ancient Music (Italy), Anima Mea Festival (Puglia, Italy), Alessandro Stradella Festival (Nepi, Italy), Purtimiro Festival (Lugo, Italy), Associazione "A. Scarlatti" (Naples, Italy).
In 2012, with their first project, Virgo Singularis, the ensemble received two artistic residencies at the Cultural Center in Ambronay (France) and the Collegio Ghislieri in Pavia. Both residencies were renewed in 2015 in the context of the EEEmerging emerging young European ensemble program. In 2013, the ensemble was invited to participate in the REMA Showcase (Réseau Européen de Musique Ancienne) in Marseille, where they were awarded the public prize, and in 2015 they won first prize at the Händel International Competition in Göttingen.
In 2016, Abchordis Ensemble released their first album "Stabat Mater" entirely dedicated to the sacred music of Neapolitan Baroque, including unpublished works by Gennaro Manna, Aniello Santangelo and Giacomo Sellitto in their world's first recording. In May 2018 their new album "Dies Irae" came out presenting presenting another world premiere recording of sacred and instrumental music of Neapolitan Baroque. "Dies Irae" is the second chapter of their musicological research "Sacre Stravaganze" dedicated to Italian baroque unknown and unpublished music.
Both recordings are released by SONY Deutsche Harmonia Mundi to international critical acclaim.