---
Album info
Album including Album cover Booklet (PDF)
Ludwig van Beethoven (1770 - 1827):

1

Piano Sonata No. 14 in C-Sharp Minor, Op. 27 No. 2 'Moonlight'

06:00

Leonhard Kuhn (b. 1987):

2

Symphony No. 7 in A Major, Op. 92 - II, Allegretto

06:02

3

Sonata (Pt. I Allegro Spirituoso)

11:44

4

Sonata (Pt. II Scherzo)

07:31

5

Sonata (Pt. III Largo)

05:40

6

Sonata (Pt. IV Finale)

07:01

Ludwig van Beethoven:

7

String Quartet No. 14 in C-Sharp Minor, Op. 131 (Pt. I)

06:54

8

String Quartet No. 14 in C-Sharp Minor, Op. 131 (Part II)

05:09

Total Runtime

56:01
Info for Beethoven's Breakdown

The Beethoven 250th anniversary on 17 December 2020 is an event of national significance in Germany. It even finds its way into the text of the Federal Government's coalition agreement, where it is stated that the anniversary "offers outstanding opportunities for Germany as a cultural nation both at home and abroad. That is why the preparations for this important anniversary are task for the nation." Jazzrausch Bigband got the memo straight away. With their album "Beethoven's Breakdown" the band is honouring the pioneering composer in its own way. Not by being historically authentic or by preserving him in aspic, but in a manner that befits Beethoven the radical innovator. Just as he revolutionized the history of music, the equally forward-looking JRBB has pushed ahead with its bold concept of orchestral techno-jazz.
Just how superbly it works is clear from the first track of the album,"Moonlight Sonata": a firm beat propels the piece forward, the melodic theme is given to the trumpets in minimalist form and with altered rhythms, the woodwind players having plenty of room to be free with the theme and to improvise over it. Everything becomes part of the interplay, the awareness of musical time is razor-sharp, and vocalist Patricia Römer sings in an onomatopoeic way, all of which serves to build up the tension, to the point of tearing it apart. The second 'allegretto'movement of the Seventh Symphony is given a similar treatment and also emerges redefined: there is a fine trumpet solo and some lyrical singing, but the original delicate theme of this movement is given to contrabass clarinet and tuba, who assert it darkly and powerfully.
String Quartet No. 14 also appears in a completely new light. Using strongly syncopated basic rhythms, melodic fragments are completely reinterpreted harmonically and formed into an original composition. This multi-faceted piece ranges from classical elements to dark German techno à la Ben Klock.
There is also a newly-composed sonata in four movements on "Beethoven's Breakdown". As special guest, the Jazzrausch Bigband was able to attract trombonist Nils Landgren who is featured in this work. Formally and harmonically, the sonata is strongly reminiscent of Beethoven. The melodies and the sound aesthetic, however, make use of a contemporary language that involves both the spectral music of Tristan Murail and the danceable grooves of modern house music.
Two creative minds are behind this bold homage: Leonhard Kuhn, who is the mastermind of the band both from the musical-aesthetic and the philosophical-scientific perspectives. He composed the sonata and wrote all the techno arrangements of the Beethoven pieces. Bandleader Roman Sladek was, as always, a source of important ideas, and also supervised the production. He is responsible for the way the ensemble functions and has had a major role in its success. The band has only existed for five years, but has established a major profile with its approach, a new, stylistically open kind of orchestral jazz, and is now in great demand internationally: the band now plays at least 120 concerts a year, most recently at major festivals in Europe, Asia,Africa and the USA, but also as resident big band in Munich's Unterfahrt jazz club and techno club Harry Klein. The level of common understanding among the players that this regular performing has engendered, and the phenomenal tightness of ensemble among this elite of Southern German jazz instrumentalists is to be heard on "Beethoven's Breakdown".
What is happening here is a compelling rejuvenation cure not just for conventional styles of jazz, but also for the classical music of Beethoven. And it is also how Jazzrausch Bigband is reaching and winning over new and young audiences for both Beethoven's music and big band jazz. For traditions to be carried on there must be renewal. A torch is being carried from one generation to the next, and fires in new and unexpected places are being set alight.
Jazzrausch Bigband
Special guest:
Nils Landgren, trombone (on Sonata I - IV)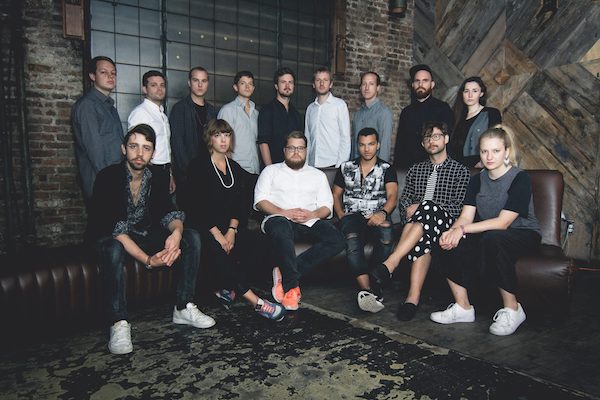 The Jazzrausch Bigband
is the world's first resident big band of a world-renowned techno club. Founded 2014 in Munich, this big band has been quietly revolutionizing the German club scene with endlessly inventive performances. Their schedule includes more than 100 annual concerts and has already taken them to the Lincoln Center NYC, the JZ Festival in Shanghai, the Munich Philharmonic Hall and the Festival Da Jazz in St. Moritz. At their live big band techno shows, it comes to a musical meltdown, where the creativity and sound diversity of a jazz big band meets the impressive clarity of a techno club – always surprising, always danceable! Composer and arranger of the music is Leonhard Kuhn. Bandleader and manager of the Jazzrausch Bigband is Roman Sladek. With German fans already won over, the band has now begun to attract an international audience.
"They validated their reputation as one of the world's most distinctive and adrenalizing dance outfits. What was shocking, and gloriously refreshing right from the first hammerhead beats of the kickdrum, was that this band swings. Which completely sets them apart from the machines and the would-be cyborgs who man them. If this is the future of EDM, it's this band's ODM that's going to replace it – that's a big O for Organic." – The New York Music Daily about US debut of the Jazzrausch Bigband at the Lincoln Center in NYC.

Booklet for Beethoven's Breakdown