---
Six (Remastered) (21st Anniversary Edition) Mansun
Album info
Album including Album cover
I`m sorry!
Dear HIGHRESAUDIO Visitor,
due to territorial constraints and also different releases dates in each country you currently can`t purchase this album. We are updating our release dates twice a week. So, please feel free to check from time-to-time, if the album is available for your country.
We suggest, that you bookmark the album and use our Short List function.
Thank you for your understanding and patience.
Yours sincerely, HIGHRESAUDIO
1

Six

08:06

2

Negative

04:22

3

Shotgun

06:38

4

Inverse Midas

01:45

5

Anti Everything

02:25

6

Fall Out

03:47

7

Serotonin

02:34

8

Cancer

09:33

9

Witness to a Murder, Pt. 2

03:05

10

Television

08:22

11

Special/Blown It (Delete as Appropriate)

05:32

12

Legacy

06:34

13

Being a Girl

07:59

Total Runtime

01:10:42
Info for Six (Remastered) (21st Anniversary Edition)

One of the most audaciously brilliant albums of the '90s remastered for its 21st anniversary. Includes the hit singles "Six", "Being A Girl", "Legacy" and "Negative". The 1998 album has been remastered from the original master tapes by Jon Astley.
There are 14 tracks on the Demos, Rarities and Outtakes disc, including three outtakes of Tom Baker's narration on the album. There's also a completely unreleased song by Dominic Chad, a subliminal hidden track from within Serotonin, Dominic Chad singing Inverse Midas and alternative versions of Cancer and Fallout amongst many other gems." (Paul Draper)
Released little over a year after their No. 1 debut album, Mansun's SIX was nothing less than a revelation. Arriving at the tail end of the Britpop era, SIX was a hugely ambitious spiralling, sprawling record that charted in the Top 10 on release and spawned four Top 40 singles.
Concept-driven and spanning myriad genres, SIX was a record out of time made by a band at the peak of their creative powers – a collection of songs that fizzed with ideas and inspirations and fused elements of pop, electronica and progressive rock to Tchaikovsky sample, electronic drums and spooky synth lines. Lyrically, the songs referenced religious scepticism, gender dysphoria, Winnie the Pooh, L. Ron Hubbard, Stanley Kubrick, Orwell, Marxism and that most iconic TV show, the Prisoner. On top of all of that, the record featured a spoken word section from the legendary fourth Doctor Who – Tom Baker. The end result is a 70 minute, twelve-track brain warp, a record that would set Mansun apart from their peers forever.
Paul Draper, vocals, rhythm guitar
Dominic Chad, lead guitar, backing vocals, piano, harpsichord
Stove King, bass
Andie Rathbone, drums, percussion
Produced by Paul Draper, Mark Stent and Mike Hunter
Digitally remastered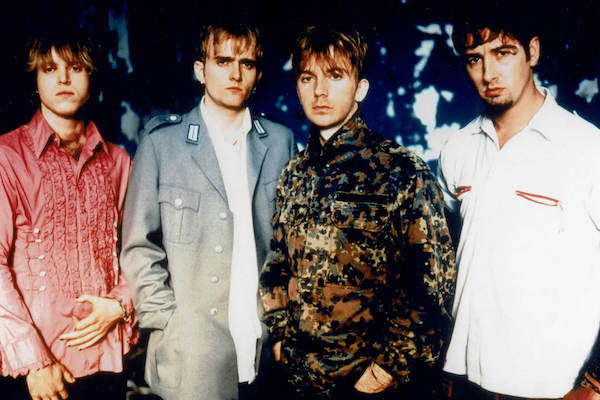 Paul Draper
This summer sees the return of one of British rock's most singular and distinctive voices. On August 11th, former Mansun frontman Paul Draper releases his debut solo album Spooky Action. Crafted with the same idiosyncratic songwriting and production that made him a 90's cult hero, the album comes with a more personal perspective, and newfound lust for life.
At the peak of their powers, Mansun were one of the UK's most renowned rock exports - inspiring undying devotion in their fans with a sound so bold it would influence a generation of misfits to pick up guitars and push the envelope. A number one debut album (Attack of the Grey Lantern), a hugely acclaimed boundary pushing follow-up (Six) and numerous radio-hugging singles (brought together on the peerless Legacy collection). Then in 2003, while recording their fourth album Kleptomania, the band split amid great tension and musical differences. Years of legal battles and strife would follow, but having been in bands since he was 10-years-old, Draper kept on writing.
"We were a Britpop version of the Sex Pistols," says Draper. "Great while it lasted but then imploded magnificently."
However Draper, remained active - writing and producing with the likes of Skunk Anansie's Skin, Menace Beach, The Joy Formidable, as well as his long-term and acclaimed collaborator Catherine AD (aka The Anchoress). However, when he lifted his head above the parapet, the world wanted more - leading fans to start a petition for Draper to unearth his own unreleased tracks and solo material.
"Someone recently told me 'I really loved Mansun because you were like a prog-musical version of The League Of Gentlemen'," laughs Draper. "Make of that what you will. I was just a working class product of the art school system from a small Welsh town. People just think we had good songs. We did so many EPs, played 200 gigs a year, we shook every hand. We never took any fan for granted. Those fans never went away."
Riding on the wave of goodwill, last year saw Draper release two well-received EPs through Kscope whilst gaining accolades for his work on the award winning Anchoress album, Confessions of a Romance Novelist. Now with a huge sold out tour on the horizon, Draper is proud to announce his debut solo album Spooky Action - his most accomplished and autobiographical work to date.
"I had a lot to write about," he admits. "I wrote down all of my thoughts about what happened to me in Mansun, and what happened to me afterwards. It was just another form of therapy.
"It's been a cathartic process. I don't work in a professional manner, I do it to heal something - whatever that is. I got a lot of anger out and I'm on the other side of it now. It's taken a lot to get there."
Spooky Action was a project born out of the death of Mansun, shelved as Draper went on to work behind the scenes with like-minded artists. The online fan petition - reported across the music press – forced Draper to revisit dusty solo material. With some older tracks and others written recently in collaboration with Catherine AD, Spooky Action is a portrait of an artist coming to terms with his past but with his heart very set on the future.
"I've dealt with the past; the music was just one of many processes that helped repair me as a person," says Draper. "The music started out quite vengeful and ended in a happy place, just feeling happy and privileged to be able to make an album."
So much so, that Draper is already looking ahead to touring and a follow up solo album. But for now, Draper's just excited to get this record out there and enjoy the 'whole new world' of music in 2017.
"Someone once told me that people in the music industry used to say, 'Don't sign musicians like Paul Draper any more; just get people from stage school backgrounds'. But if you do that, you end up with homogenized music. Where's the fun in that?"
Where indeed? It's so good to have him back.

This album contains no booklet.