---
Album info
Album including Album cover
1

Guilt

04:31

2

Hard to Face

06:11

3

Open Your Eyes

05:04

4

We Are Leaving

06:52

5

Angry Concern

06:36

6

Avenge

03:58

7

Revere

04:25

8

Unforgivable

05:59

9

Everdrive

08:07

10

Fame and Silence

05:02

Total Runtime

56:45
Info for Faced with Rage

As hard-hitting as the band's self-released 2015 album Emergence, Faced With Rage burns with a fearless energy and introduces a more industrial sound into the Godsticks mix.
Lyrically the album explores the theme of people dealing with emotional conflict in various scenarios. It features for the first time a four-piece line up, with drummer Tom Price bringing a more aggressive playing style to back up Darran Charles' highly developed vocal technique. The drums and vocals were recorded at the world renowned Monnow Valley Studio in Wales (Led Zeppelin, Black Sabbath, Rush and Manic Street Preachers).
"Emergence is a rare thing - an album of technically astounding prog-metal replete with hooks and melodies" (Total Guitar)
"A truly captivating album far ahead of some of the more predictable prog-metal releases" (PROG)
"Dark and muscular prog heaviness from one of the UK's most idiosyncratic rock bands" (Metal Hammer)
"A mighty tour de force of tip-top riffery" (Guitarist)
Darran Charles, vocals, guitar, keyboards
Dan Nelson, bass
Gavin Bushell, guitar
Tom Price, drums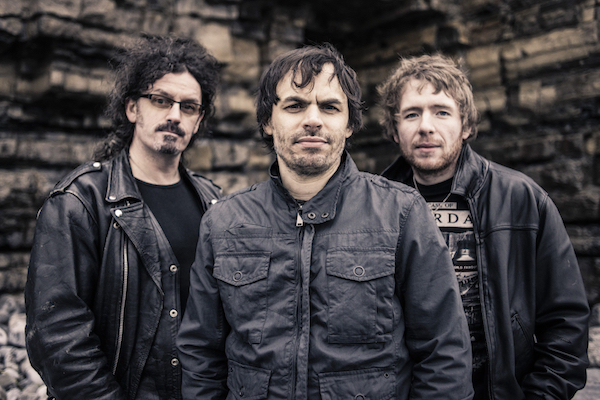 Godsticks
are a four-piece progressive heavy rock band from South Wales, formed in 2008. Having toured extensively throughout Europe, most recently they can be found showcasing their newer, heavier material supporting bands such as Textures and Dorje. Fresh from their European tour with The Pineapple Thief at the start of 2017, Godsticks entered the studio to finish work on their new studio album - Faced With Rage, which is due for release via Kscope on 13th October 2017.
Having already been hailed by the UK's Metal Hammer magazine as "one of the UK's most idiosyncratic rock bands", with their new album Godsticks have delivered on their promise to be just as heavy as their self-released 2015 album Emergence but this time with a darker feel and more industrial sound.
"The aggressive feel and sound from Emergence remains intact but we think that we've probably created our most progressive album to date, albeit unintentionally!" says singer and guitarist Darran Charles. "We wanted our previous album Emergence to be an onslaught of aggressive heavy guitars and vocals from start to finish because we felt we needed to make a strong statement about the direction we were heading in musically" reminisces Charles, "but 'Faced with Rage' features a lot more light and shade, and I think we've been more creative when trying to shape the dark and aggressive feel we wanted".
A variety of synth sounds have found their way into the longer song formats (brevity had been the Godsticks calling card up until this point) but as always guitar and Charles' vocals are still at the forefront of the band's sound. Lyrically, Faced With Rage, explores the theme of people dealing with emotional conflict in different scenarios, and who have a powerful desire to change their behaviour or situation. It features for the first time a four-piece line up with new drummer Tom Price and guitarist Gavin Bushell who bring a more aggressive playing style to back up Darran Charles' (who also performed on The Pineapple Thief's 2016 hit album Your Wilderness and is part of their live touring band) unique vocal sound and Dan Nelson's driving bass. Drums and vocals were recorded at the world-renowned Monnow Valley Studio in Wales (Led Zeppelin, Black Sabbath, Feeder, Rush and Manic Street Preachers) and the album was produced by James Loughrey.
Their previous album, Emergence, was also produced by James Loughrey (known for his work with acts such as Skindred, Manic Street Preachers and Def Leppard). It received great reviews and signified a milestone in the progression of the band from complex eclectic prog-rock to a more focused, heavier progressive metal style filled with addictive grooves and memorable choruses. Total Guitar Magazine said "Emergence is a rare thing – an album of technically astounding prog-metal replete with hooks and melodies". Typically for Godsticks, who are difficult to pin down to a specific genre, Emergence has been likened to a variety of different bands at the heavier end of the progressive spectrum, including Mastodon, Rush, and Alice in Chains.
The band line-up that features on Emergence had existed since 2010. Drummer, Steve Roberts, was hired by founding member Darran Charles to play on the debut EP and subsequently joined the band. Bassist Dan Nelson was brought on board a short time later (original bass player Jason Marsh left in late 2009), having been discovered by Darran via a YouTube video Dan had posted of himself playing a Godsticks tune. In September 2015 Steve Roberts departed the band and an additional guitarist, Gavin Bushell, has joined along with new drummer Tom Price.

This album contains no booklet.