---
Album info
Album including Album cover
1

Denigrate

03:54

2

Victim

06:14

3

Relief

05:04

4

Surrender

04:45

5

Numb

05:08

6

Change

09:31

7

Breathe

05:17

8

Time

05:49

9

Resist

04:38

Total Runtime

50:20
Info for Inescapable

The new studio album – due for release on February 7th 2020. The band also reveal first single and video for "Denigrate" (feat. Daniel Tompkins)
Their mix of heavy rock, progressive and alternative metal with a dynamic range of angular riffs and emotional depth will leave listeners reeling. The band's sound has refined over their releases on Kscope, beginning with the technically astounding metal on Emergence to the more industrial and progressive-influenced Faced With Rage. Now, with Inescapable, the band have channelled their energy and technical ability into the melody, phrasing and vocal performance, allowing emotion to take centre stage.
The band found themselves wanting a definitive theme running through Inescapable, without turning it into a concept album, of being more open, more personal and ultimately one that shines an inquisitive light on Charles's struggle with inner demons which gave the songs a new level of intimacy. "Lyrically, I've always shared personal thoughts, feelings and experiences but in a very ambiguous way. For Inescapable - in a conscious effort not to repeat ourselves – I thought I'd be a little more self-reflective and perhaps examine some of my inner demons. I have a strange relationship with music, and especially playing guitar. I would struggle to survive without either, but equally they have made my life mentally torturous because my own self-worth is completely wrapped up in them. I used to be very much a perfectionist in my early years, and whilst some people may wear that as a badge of honour, I eventually viewed it as huge heavy weight dragging down. It was a long time before I arrived at the realisation that perfection was impossible to achieve." elaborates Darran Charles.
Perfectly highlighting the album's leitmotif, the band reveal their first single "Denigrate", "the writing of this song was a sort of analysis of my ongoing battle with perfectionism and the general feeling that nothing you do ever meets the impossibly high standards you set for yourself". The song features additional vocals from TesseracT's gifted vocalist Daniel Tompkins to record vocal harmonies, adding an extra layer of aggression and energy.
The shoot for the quirky video, directed by George Laycock (Blacktide Audio/Visual) proved to be a memorable day for the band as Godsticks drummer Tom Price recalls "Everyone in the band was so excited about the concept, but when we arrived on set and saw a large table full of cakes, sweets, chocolate, sugar, sprinkles, honey and all manners of confectionary, the magnitude of what we had all let ourselves in for finally dawned on us! By the end of the shoot we were completely covered in everything - it was like 'The Great British Bake Off' meets 'Apocalypse Now'! It was so much fun to make, but despite several spins in the washing machine I still can't get that sweet sickly smell out of my jeans!" Charles chimes in "It wasn't fun, it was horrible!"
Inescapable was produced by James Loughrey (Skindred) and recorded at the famed heritage Monnow Valley studio.
Darran Charles, vocals, guitar, keyboards, synthesizer
Dan Nelson, bass
Gavin Bushell, guitar
Tom Price, drums
Daniel Tompkins, backing vocals on "Denigrate"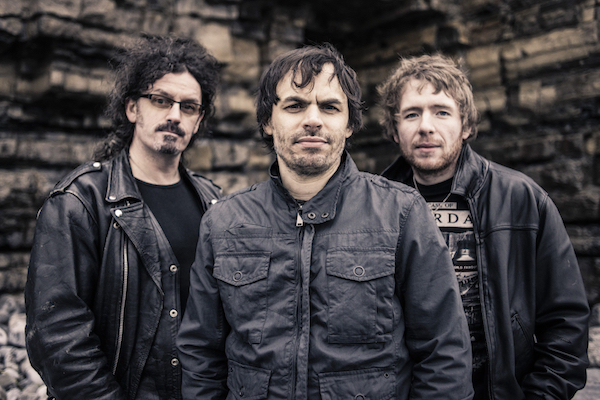 Godsticks
are a four-piece progressive heavy rock band from South Wales, formed in 2008. Having toured extensively throughout Europe, most recently they can be found showcasing their newer, heavier material supporting bands such as Textures and Dorje. Fresh from their European tour with The Pineapple Thief at the start of 2017, Godsticks entered the studio to finish work on their new studio album - Faced With Rage, which is due for release via Kscope on 13th October 2017.
Having already been hailed by the UK's Metal Hammer magazine as "one of the UK's most idiosyncratic rock bands", with their new album Godsticks have delivered on their promise to be just as heavy as their self-released 2015 album Emergence but this time with a darker feel and more industrial sound.
"The aggressive feel and sound from Emergence remains intact but we think that we've probably created our most progressive album to date, albeit unintentionally!" says singer and guitarist Darran Charles. "We wanted our previous album Emergence to be an onslaught of aggressive heavy guitars and vocals from start to finish because we felt we needed to make a strong statement about the direction we were heading in musically" reminisces Charles, "but 'Faced with Rage' features a lot more light and shade, and I think we've been more creative when trying to shape the dark and aggressive feel we wanted".
A variety of synth sounds have found their way into the longer song formats (brevity had been the Godsticks calling card up until this point) but as always guitar and Charles' vocals are still at the forefront of the band's sound. Lyrically, Faced With Rage, explores the theme of people dealing with emotional conflict in different scenarios, and who have a powerful desire to change their behaviour or situation. It features for the first time a four-piece line up with new drummer Tom Price and guitarist Gavin Bushell who bring a more aggressive playing style to back up Darran Charles' (who also performed on The Pineapple Thief's 2016 hit album Your Wilderness and is part of their live touring band) unique vocal sound and Dan Nelson's driving bass. Drums and vocals were recorded at the world-renowned Monnow Valley Studio in Wales (Led Zeppelin, Black Sabbath, Feeder, Rush and Manic Street Preachers) and the album was produced by James Loughrey.
Their previous album, Emergence, was also produced by James Loughrey (known for his work with acts such as Skindred, Manic Street Preachers and Def Leppard). It received great reviews and signified a milestone in the progression of the band from complex eclectic prog-rock to a more focused, heavier progressive metal style filled with addictive grooves and memorable choruses. Total Guitar Magazine said "Emergence is a rare thing – an album of technically astounding prog-metal replete with hooks and melodies". Typically for Godsticks, who are difficult to pin down to a specific genre, Emergence has been likened to a variety of different bands at the heavier end of the progressive spectrum, including Mastodon, Rush, and Alice in Chains.
The band line-up that features on Emergence had existed since 2010. Drummer, Steve Roberts, was hired by founding member Darran Charles to play on the debut EP and subsequently joined the band. Bassist Dan Nelson was brought on board a short time later (original bass player Jason Marsh left in late 2009), having been discovered by Darran via a YouTube video Dan had posted of himself playing a Godsticks tune. In September 2015 Steve Roberts departed the band and an additional guitarist, Gavin Bushell, has joined along with new drummer Tom Price.

This album contains no booklet.