---
Album info
Album including Album cover
Shuying Li (b. 1989):

1

American Variations (Version for Pierrot Ensemble)

12:15

2

The Dryad (Version for Pierrot Ensemble)

11:01

3

The Peace House (Version for Pierrot Ensemble)

11:22

4

Matilda's Dream (Version for Pierrot Ensemble)

13:46

5

Canton Snowstorm (Version for Pierrot Ensemble)

10:45

Total Runtime

59:09
Info for World Map

Throughout history, music has overcome culture and borders to bring people together through a universal language. Composer Shuying Li and Four Corners Ensemble present WORLD MAP, a collection of five mini-concertos for quintet, which takes listeners on a journey around the world, opening their ears to music's evolution as an international unifier.
Each piece of WORLD MAP focuses on specific cultural events that are representative of different regions of the world. Over the course of the album, the ensemble explores history through the lens of music and showcases their ability to interpret genres and idioms from the globe over.
Matilda's Dream brings listeners to Australia with a thematic interpretation of the classic bush ballad, "Waltzing Matilda." The European leg of the journey is represented by The Dryad, a nostalgic piece inspired by Hans Christian Andersen's fairy tale of the same name. American Variations takes things stateside with a set of variations based on quintessential American genres, including jazz, ragtime, klezmer, and pop-rock. Korean culture and traditional music are the focus of The Peace House, which draws its name from the inter-Korean Peace House. Canton Snowstorm gives the album a touch of surrealism with a pianistic depiction of a wintry weather in subtropical Canton.
Each member of Four Corners Ensemble serves as a featured soloist on pieces Li wrote to represent their cultural backgrounds.
Four Corners Ensemble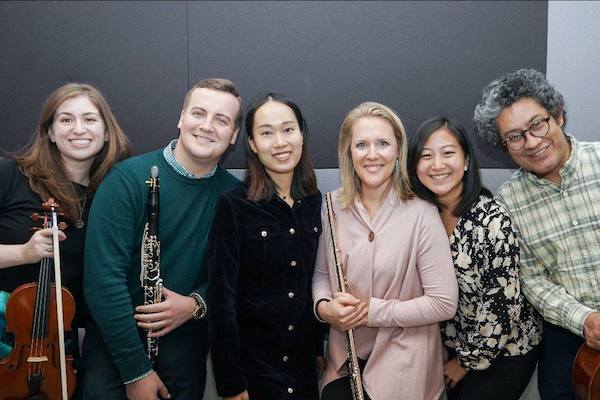 Four Corners Ensemble
(4CE) is a non-profit organization with 501(c)(3) status. It was founded to promote contemporary classical music and cultural diversity. With members originally from different countries and cultural backgrounds, 4CE is dedicated to the mission of cultivating diversities and international collaboration through creating and performing contemporary music with musicians from different cultures, and bringing high-quality concert experience to a variety of communities around the globe. ​
Founded in 2017, 4CE has been featured in collaborated with the Hartford Opera Theater, the Shanghai Conservatory of Music, and has also initiated the first Operation Opera festival at the University of Michigan where the premiered 8 contemporary operas with musicians coming from all over the world in May 2018. During the 2018-2019 Season, 4CE has been presented as the ensemble-in-residence at the 20th International Chopin & Friends Festival in New York, and has performed at the Carnegie Hall's Weill Recital Hall (NY), the Polish Consulate-General New York, Arete Venue and Gallery, University of Hartford (CT), University of Michigan (MI), and Kerrytown Concert House (MI). In May 2019, 4CE traveled to China for the inaugural Jimo Ancient City International Classical Music Festival in Qingdao, as well as residencies at the Qingdao University of Science and Technology and Shanghai Conservatory of Music to perform its core project, "World Map Concerti Series." ​
​4CE future engagements include residencies at the International Chopin and Friends Festival sponsored by New York Dance & Arts Innovation, the "World Map Concerti Series" Album recording and release, and its 2019-20 Season program, "Migration," which drives the exchange of diverse ideas, serving as a catalyst for a more universal understanding of what it means to be human.

This album contains no booklet.