---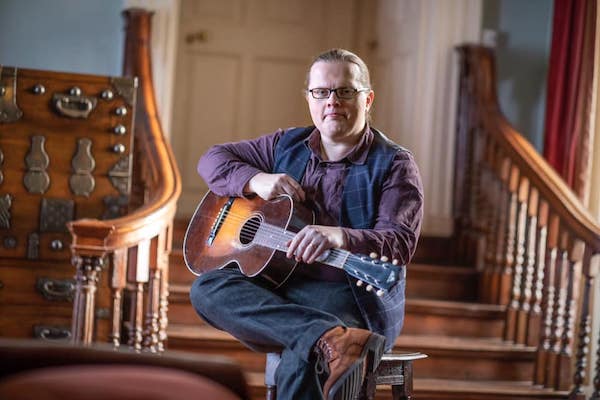 Angelo Kelly
As the youngest member of the pop and folk band The Kelly Family, Angelo Kelly was already a star as a child and started his solo career in 2006. Since 2015 he has been performing successfully with his wife and their five children and continues the musical family tradition. Tickets for the concerts of Angelo Kelly & Family are no less popular today than those of the Kelly Family.
Angelo Gabriele Kelly was born on December 23, 1981 in Pamplona, Spain, as the twelfth child in the family. Before he is a year old, he loses his mother. Angelo and his siblings grow up in modest circumstances and travel with their father Dan Kelly for street concerts across Europe and the USA. Angelo Kelly's first singing passages at the age of three are found on the 1985 single "Hiroshima, I'm Sorry".
Angelo Kelly has been constantly on tour since he was three years old as lead singer. Angelo Kelly's first self-written song, "Pee-Pee", appeared on the 1989 album "Keep On Singing". Angelo Kelly also mastered several instruments early on. At first he performs with guitar and small percussions. He was later fascinated by drums: he became a master student of jazz drummer Billy Cobham.
After several years of average success as street musicians, the Kelly Family made their commercial breakthrough in 1994 with the album "Over The Hump". The single "An Angel" from the album made 12-year-old Angelo Kelly and his brother Paddy overnight stars.
Angelo Kelly demonstrated his talent as a composer at the age of 13: he wrote the title "I Can't Help Myself" for the Kelly Family's ninth studio album "Almost Heaven", which was released in 1996. The single release storms the charts and reaches the top position in Germany and Switzerland, among other places. Remarkable: This song is the first performed by Angelo Kelly after his voice broke.
At one of the typical street concerts of the Kelly Family in Rostock-Warnemünde in 1991, Kira Harms entered Angelo Kelly's life: Angelo's sister Maite was friends with the girl. A year later, teenie Angelo falls head over heels in love with the Rostock resident, who is almost three years her senior.
Shy, full of heartbreak and happiness, Angelo Kelly processes his feelings in songs. In addition to the hit "I Can't Help Myself", he writes other successful songs for Kira, including "Once In A While", "Because It's Love" and "I Will Be Your Bride". But it was only after years of close friendship that Kira found Harms and Angelo Kelly together as a couple in 1998. They married in the summer of 2005. He lives in Ireland with her and their five children.
Angelo Kelly continued to appear in the Kelly Family shows until 2007. But even then he begins to reorient himself musically. Increasingly focused on drumming, he released Call And Response DVD in 2004 with his teacher Billy Cobham. He also plays the drums for various CD productions – including the musical "Pech undulphur" composed by Hans Rudolf Kunze.
Angelo Kelly started his solo career in 2006 with his own label "Ten 4 One" and the album "I'm Ready". Further studio albums followed, including "Rejoice And Be Glad" in 2007 and "Lost Sons" in 2008. Various live albums were also released and in 2016 the anniversary compilation "10 Years - Angelo Kelly".
However, since the release of the album "Irish Christmas" in 2015, Angelo Kelly has celebrated the greatest successes after his career together with the Kelly Family - the first production together with his wife and children as Angelo Kelly & Family.