---
Album info
Album including Album cover Booklet (PDF)
I`m sorry!
Dear HIGHRESAUDIO Visitor,
due to territorial constraints and also different releases dates in each country you currently can`t purchase this album. We are updating our release dates twice a week. So, please feel free to check from time-to-time, if the album is available for your country.
We suggest, that you bookmark the album and use our Short List function.
Thank you for your understanding and patience.
Yours sincerely, HIGHRESAUDIO
Traditional:

1

Introit "Gaudete in Domino semper"

04:26

Pérotin (fl. ca. 1200):

2

"Beata viscera Mariae Virginis"

03:48

Traditional:

3

Hymn "Conditor alme siderum"

03:36

Josquin Desprez (ca. 1455-1521):

4

Motet "Missus est Gabriel"

03:21

Giovanni Pierluigi da Palestrinaca (ca. 1525-1594):

5

Motet "Canite tuba in Sion - Rorate, caeli, desuper"

06:06

Giovanni Maria Nanino (ca. 1543-1607):

6

Motet "Hodie nobis caelorum Rex - Gloria in excelsis Deo"

05:18

Giovanni Pierluigi da Palestrina:

7

Motet "Hodie Christus natus est"

03:23

Jean Mouton (ca. 1459-1522):

8

Motet "Queramus cum pastoribus"

04:32

Tomas Luis de Victoria (1548-1611):

9

Motet "Quem vidistis, pastores - Dicite, quidnam vidistis"

05:03

Giovanni Pierluigi da Palestrina:

10

Motet "Dies sanctificatus illuxit nobis"

02:36

Gregorio Allegri (1582-1652):

11

"Nasceris, alme puer"

04:22

Traditional:

12

"Christe, Redemptor omnium"

04:49

Tomas Luis de Victoria:

13

"O magnum mysterium"

02:46

Jacobus Clemens non Papa (ca. 1510- ca. 1556):

14

Motet "Magi veniunt ab oriente - Magi, videntes stellam"

05:18

Giovanni Pierluigi da Palestrina:

15

Offertory "Reges Tharsis et insulae"

02:21

16

Offertory "Diffusa est gratia"

02:51

Total Runtime

01:04:36
Info for Veni Domine: Advent & Christmas At The Sistine Chapel

In a new release of music for Advent and Christmas, multiple Grammy award-winning mezzo-soprano Cecilia Bartoli sings with the pope's Sistine Chapel Choir.
It marks the first time one of the oldest choirs in the world has issued a recording with a female singer, Mgr Massimo Palombella, director of the Sistine Chapel Choir, told Catholic News Service.
Produced by Deutsche Grammophon and Universal Music Italia, the album marks the fourth joint venture between the music companies and the papal choir; the other CDs include "Habemus Papam" and "Cantate Domino."
Like "Cantate Domino," "Veni Domine" was recorded in the Sistine Chapel not only for its rich acoustic effects, but also because the musical compositions chosen had originally been composed to be sung in the chapel for papal celebrations, the monsignor told reporters.
The one change adjustment made to the chapel was that carpets were put down to improve the sound quality, said Mirko Gratton, head of the classical and jazz music division at Universal Music Italia.
All of the musical selections, Mgr Palombella said, were taken from the choir's vast ancient archives at the Vatican Library. Three of the Renaissance-era compositions have never been performed in modern times, he added.
The pontifical choir, which traces its history back to the 1470s, is dedicated to making its music known beyond the walls of Vatican City and to helping people experience Christ through sacred music, he said.
Sistine Chapel Choir
Cecilia Bartoli, mezzo-soprano
Massimo Palombella, direction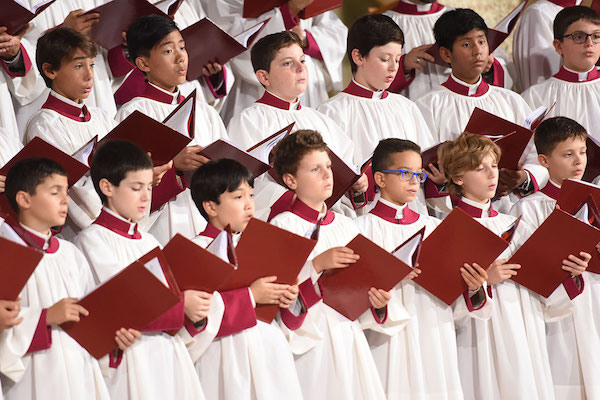 Sistine Chapel Choir
The Pontifical Musical Chapel "Sistina", commonly known as the Choir of the "Sistine Chapel" is the chorus of the liturgical celebrations of the Supreme Pontiff. Present since the first centuries of the Church, it was reorganized in the sixth century by Pope St.Gregory the Great, underwent major changes under Boniface VIII, and it was reorganized by Sixtus IV in 1471; since then, the Pontifical Musical Chapel became the Pope's personal choir and was renamed "Sistina choir" as a tribute to the man who revived it, and because usually the choir sang in this chapel. During the Renaissance, Singers Chapel "Sistine", among others, were Giovanni Pierluigi da Palestrina, Luca Marenzio, Cristobal Morales, Costanzo Festa, Joaquin de Prés and Jacob Arkadeh. In the nineteenth century the Chapel had as its illustrious directors composers such as Giuseppe Baini and Domenico Mustafa. In 1898, Maestro Lorenzo Perosi became the director and, in 1956, Domenico Bartolucci. From 1997 to 2010 it was directed by Msgr. Giuseppe Liberto. On October 16th, 2010 His Holiness Benedict XVI appointed Msgr. Massimo Palombella Master Director of the Sistine Chapel Choir. In addition to its main commitment under the Papal Liturgy, the Choir of the Sistine Chapel in its totality as well as with only the White Voices section, performs in concerts around the world where, through the historical heritage of music for Liturgy, it carries out, according to its mandate, a work of Evangelization.

Booklet for Veni Domine: Advent & Christmas At The Sistine Chapel